SEA4DQ Workshop 2023
Call for Papers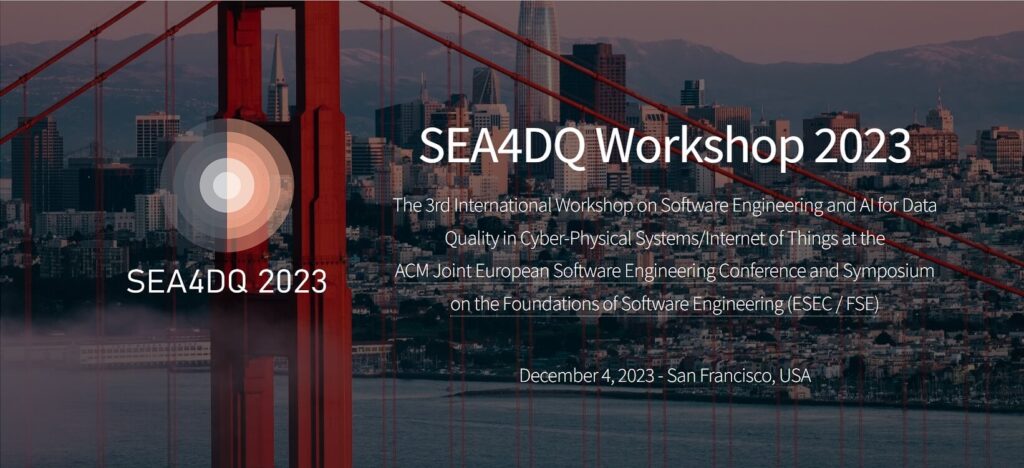 About the workshop
Modern software systems are centered on data, using data on an increasing scale and in novel and intelligent ways. Key drivers for increased data availability include the Internet of Things (IoT), data sharing platforms, as well as open data portals. Data quality is crucial, as the data acquired and used by modern software systems strongly impacts on the reliability, robustness, efficiency, and trustworthiness of these systems.
How can software engineering and artificial intelligence (AI) help manage and tame data quality issues?
This is the question we aim to investigate in the workshop SEA4DQ. SEA4DQ 2023 is the third workshop of the series and discusses novel software engineering and AI techniques that address data quality issues of modern systems.
The workshop provides a forum for researchers and practitioners to exchange ideas, lessons learnt, and visions for the future.
Registration information will follow on the SEA4DQ website.
Important dates
Abstract submission deadline: July 14, 2023
Submission deadline: July 21, 2023
Notification of Acceptance: August 17, 2023
Camera-Ready Submission: August 31, 2023
Workshop: December 4, 2023
Call for papers
SEA4DQ 2023 accepts the following types of contributions:
Presentation-oriented contributions, which concentrate on presenting long research papers in detail and are followed by discussions.
Discussion-oriented contributions, which – facilitated by brief presentations of short research papers – emphasize longer discussions. Discussions will be facilitated by the workshop chairs by preparing a set of guiding questions for the presenters.
Industrial experience reports, which address problems and lessons learned from practice and are accompanied by a summary paper.

All submissions must be in English and in PDF format. Submission Format: ACM Primary Article Template.
The accepted papers will be published in the workshop's proceedings (will be proposed for publication in the ACM digital library). As a published ACM author, you and your co-authors are subject to all ACM Publications Policies, including ACM's new Publications Policy on Research Involving Human Participants and Subjects. At least one author of each accepted paper must register and present the paper in person at SEA4DQ 2023 in order for the paper to be published in the proceedings.
Submission details will follow on the SEA4DQ website.
SEA4DQ Team & Contacts
Learn more: https://sea4dq.github.io/
General Chair
Foutse Khomh, Polytechnique Montreal, Canada (Main Contact)
Program Chairs
Preetha Chatterjee, Drexel University, USA
Andreas Metzger, University of Duisburg-Essen, Germany
Industrial Chairs
Beatriz Cassoli, TU Darmstadt, Germany
Sagar Sen, SINTEF, Norway
Publicity Chair
Phu Nguyen, SINTEF, Norway
Valentina Golendukhina, University of Innsbruck, Austria
Web Chairs
Nicolas Jourdan, TU Darmstadt, Germany
Sponsorship
The SEA4DQ 2023 Workshop is sponsored by the research projects DIONE-X, DYNABIC, InterQ and DAT4.Zero.