Highlights from the SEA4DQ 2022 Workshop
News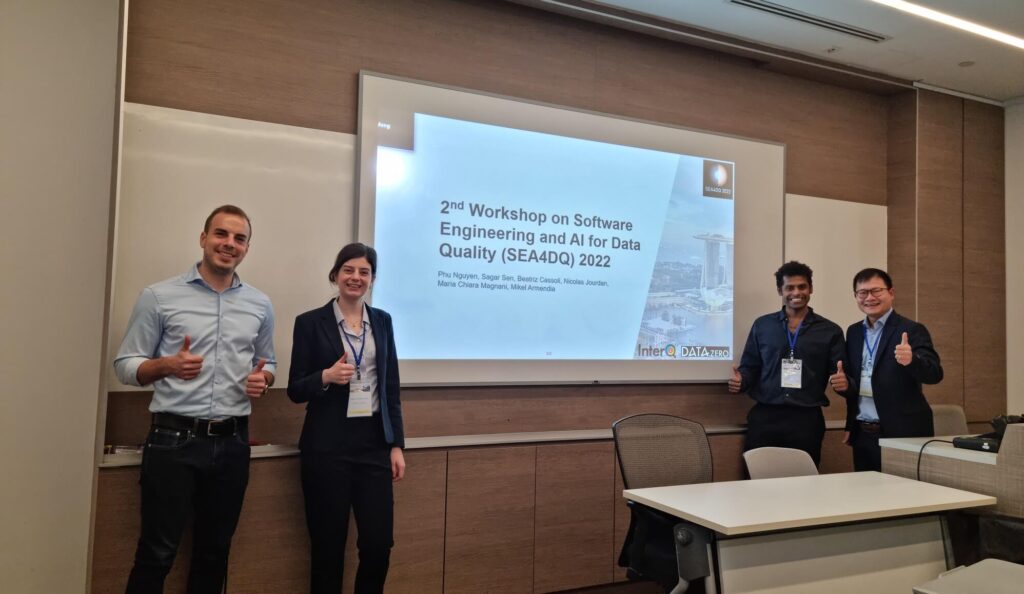 Written by Phu Nguyen, SINTEF, Norway
A successful workshop
Stemming from the common research interests and international cooperation efforts, especially of the InterQ project and the Dat4.ZERO project, SEA4DQ 2022 was a successful event organized on 17 November 2022, collocated with the ACM Joint European Software Engineering Conference and Symposium on the Foundations of Software Engineering (ESEC / FSE), in Singapore. We had a great workshop in a nice atmosphere from 9:00-17:05. Yes, we did have to call it a day even though a lot of interesting discussions want to be continued much longer with so much energy!
InterQ and DAT4.Zero were the exemplary cases for showing the importance of data quality.
And the topics initiated from the two projects have become a great foundation for building a bigger community to address these challenges of ensuring data quality. Phu Nguyen (SINTEF, InterQ/DAT4.Zero), Sagar Sen (SINTEF, InterQ/DAT4.Zero), Maria Chiara Magnanini (POLIMI, DAT4.Zero), Beatriz Cassoli (PTW, InterQ), Nicolas Jourdan (PTW, InterQ), and Mikel Armendia (TEKNIKER, InterQ) all played important roles for the successful SEA4DQ 2022.
Compared to the first edition SEA4DQ 2021, which featured one keynote, five presentations, and one panel discussion, the second edition SEA4DQ 2022 has evolved significantly with two keynotes, eight paper submissions, six presentations, and one panel discussion. Eight papers submitted to SEA4DQ 2022 had gone through a rigorous review process by the Program Committee, with three/four reviewers per paper. Submissions of PC members were treated with clear declaration of conflict of interest and decided by the PC chair without conflict of interest. In the end, based on the reviews, the PC had decided to accept two full papers, one work-in-progress paper, and two position papers for the workshop proceedings. Five paper presentations are part of the SEA4DQ 2022's program together with two keynotes, one project presentation (InterQ), and a panel discussion.
SEA4DQ 2022 workshop program features Prof. Dr. Andreas Metzger, Head of Adaptive Systems and Big Data Applications from University of Duisburg-Essen, Germany, and Prof. Dr. Foutse Khomh, Head of SoftWare Analytics and Technologies (SWAT) Lab, University of Montréal, Canada as two keynote speakers. The first keynote speaker Andreas Metzger addresses Data Quality Issues in Online Reinforcement Learning for Self-adaptive Systems. The second keynote speaker Foutse Khomh addresses Quality and Model Under-Specification Issues.
Discussing the scientific contributions
The accepted contributions, carefully selected by the program committee, show the research trends to address data quality issues are being intensified. Jørgen Stang, Dirk Walther, Per Myrseth report their full paper on Data Quality as a Microservice – an ontology and rule-based approach for quality assurance of sensor data in manufacturing machines. Muhammad Azmi Umer, Aditya Mathur and Muhammad Taha Jilani present their full paper Effect of Time Patterns in Mining Process Invariants for Industrial Control Systems: An Experimental Study.
Next, Valentina Golendukhina, Harald Foidl, Michael Felderer and Rudolf Ramler provide in their work-in-progress paper Preliminary Findings on the Occurrence and Causes of Data Smells in a Real-World Business Travel Data Processing Pipeline.
Maryna Waszak, Terje Moen, Sølve Eidnes, Alexander Stasik, Anders Hansen, Gregory Bouquet, Antoine Pultier, Xiang Ma, Idar Tørlen, Bjørn Rune Henriksen, Arianeh Aamodt, Dumitru Roman address Data Quality Issues for Vibration Sensors: A Case Study in Ferrosilicon Production in their position paper.
And last but not least paper presentation, Dumitru Roman, Antoine Pultier, Xiang Ma, Ahmet Soylu, Alexander G.Ulyashin present Data Quality Issues in Solar Panels Installations: A Case Study in their position paper.
Finally, Nicolas Jourdan and Beatriz Cassoli presented InterQ Research Project and Datasets.
We concluded the workshop an energetic panel discussion involving the panelists (Andreas Metzger, Foutse Khomh, Sallam Abualhaija – University of Luxembourg, Sagar Sen) and the participants, who actively discussed the current challenges and the visions for the future of data quality. Beatriz Cassoli and Nicolas Jourdan were the moderators of the panel discussion.
This workshop has been sponsored by the European Union's Horizon 2020 Research and Innovation programme under Grant Agreement No. 958357 (InterQ), and Grant Agreement No. 958363 (DAT4.Zero).
We would like to thank the program committee members and all reviewers for their work in evaluating the submissions. We also thank the ESEC / FSE 2022 organizers for their assistance in the preparation of the workshop and the editors of ESEC / FSE 2022 for help in publishing the workshop proceedings.
Let's look forward to SEA4DQ 2023!